Starting a business in one of the
world's most successful economies
can be tempting for many an existing business owner, as well as for those who are just thinking about starting a company. To make sure your business in the US
follows all the correct
legal processes and so you do not forget to register for all the important taxes, we have prepared a concise
overview
. In it, you will learn
how starting a business in the US
works and everything we can help you with.
Do not worry about establishing a company - we will establish it for you
You do not have to worry about how to establish a company in the USA. We are
happy to do that for you
.
Based on a power of attorney you issue to us, we will
optimize
all processes between your parent company and the foreign company. We can arrange
remote company
registration and
remote opening of a multi-currency account
, including individual IBAN, SWIFT and SEPA codes. And in 2-3 weeks, depending on the jurisdiction you choose, your company will be incorporated in the US without any detriment to your nerves.
Do you already know which of the 50 US states you will be doing business in?
The first step is to be clear about which US state you want to start your business in. Each state has slightly different legislation and processes for incorporating a company. But one thing we know for sure. Doing business in the US takes a great deal of patience. Especially at the beginning. But we can do everything for you.
You have the state, now you need to think a little bit
Once you have figured out which state will become your company's registered office, you need to sit down at your desk and rack your brain with more questions and tasks. You should sort out: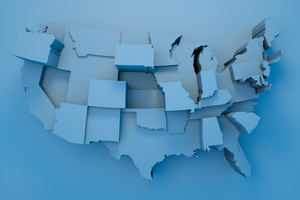 Whether you will worry about setting it up yourself or leave the whole process to professionals.
Set up a US e-mail address for online communication (you can do this right away, even if someone else handles the incorporation for you).
Find out what taxes, other than federal, are due in the state where you want to do business.
Make sure you really have all the permits and licenses you need to practice your trade.
If you are not physically in the US, we recommend having the company incorporated by professionals, which means you will not have to find a registered agent with an address in the state to accept all official documents.
Taxes in the USA
Once all the initial bureaucratic steps have been dealt with, you can start registering for local taxes. Taxes in the US are basically divided into federal and state. Federal taxes apply to everyone who does business in the US. State taxes are determined by each state, as we mentioned at the beginning of this article. Federal taxes are based on the legal form of the corporation you choose.
Federal taxes in USA
C-Corporation, abbreviated to C-Corp
This is a suitable legal form for non-US residents who are establishing a larger company, have an investor or want to divide the new company among multiple shareholders. The advantage is that you can participate in the management of the company remotely and you can transfer your interest to another person/entity at any time. On the other hand, the disadvantage is multiple taxation, because a C-Corp pays taxes for the company itself, as well as on dividends and bonuses paid to shareholders.
You do not pay payroll tax (FICA).
Federal income tax ranges from 10-37%.
You will be taxed on the profit at 21%.
Limited Liability Company or LLC
This is similar to a Czech s. r. o. company. There can be one or more owners and you are liable only up to the amount of the company's assets.
Payroll tax (FICA) = 15.3%.
Federal income tax ranges from 10-38% and is paid separately by each member.
In the case of corporate tax, you can choose whether to pay it at 21% for the whole company or whether each member pays it for him/herself.
Partnership
This means doing business with two or more partners. It is a simple system where a company's profits are not taxed, because the earnings are reflected in the personal tax returns of the individual partners.
Payroll tax (FICA) = 15.3%.
Federal income tax ranges from 10-37%
Corporate tax is paid by each member for him/herself.
US VAT and Registry Fees
However, in addition to federal and state taxes, which could be compared to municipal taxes in the Czech Republic, you can also encounter a sales tax or VAT and franchise fees.
A sales tax, otherwise known as VAT, is a tax on the sale of services payable at the customer's place of residence. Its definition is therefore similar to Czech VAT. However, in the US it ranges from 2.9% to 7.25%.
Franchise fees are an annual administrative fee, the amount of which is set individually by each state and paid to the Registrar of Companies.
You now know the most important requirements for starting a business in the US. But now comes the hard part - putting together a well-thought-out business plan, including ideas on how to effectively launch a new branch and reach out to the American public. Succeeding in such a large market will be a challenge.
We believe that you will have
much success
in the market "across the pond". If you want to keep a clear head and focus on the business itself during the start-up process, don't hesitate to
contact us
.